Itinerant Activity Holidays on Causse Méjean and Tarn Gorges
Sports adventure in vast open spaces
7 days/ 6 nights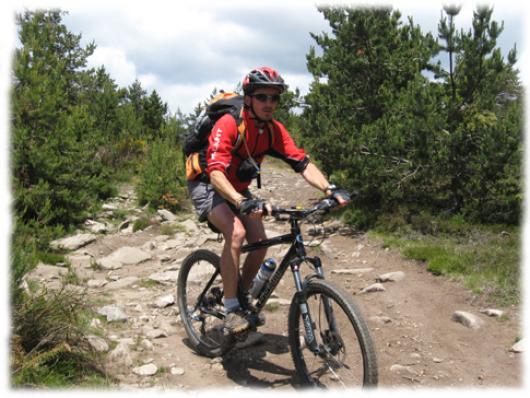 Hike, mountain bike or trail across Méjean Plateau. Then horsebackpacking ride before paddling down on the Tarn River. You finish your itinerant activity tour by rock climbing over the Jonte River Gorges. These holidays are very special !
PROGRAM:
MTB Causse Méjean & Gorges du Tarn – 2 days (self guided)
Stage 1 : 43 km
Stage 2 : 36 km
Horse backpacking ride – 1 day guided
The route is designed according to your level. Fully graduated guide.
Paddle down the Tarn River – 2 days (self guided)
Day 1 : 20 km
Day 2 : 20 km
You depart in the morning after being given the security rules and the basics to paddle. You have a waterproof tanks to keep your belonging dry.
Accommodation in gite for groups and in B&B on a full board basis (packed lunch).
Rock climbing over the Jonte River Gorges – ½ day (guided)
½ day with a fully graduated guide. Equipment included.
Itinerant activity holidays - 6 days/ 6 nights

645 € / pers or  695 € / pers (with mountain bike rental) – basis 4 persons

 

The price will vary according to the number of people and the selected options. Please fill in the form accordingly.
For any further information, please contact:
Phone : +33 4 67 45 00 67
Mail : fred-faby@languedoc-nature.com
ACCOMMODATION AND MEALS:
Accommodation in gite for groups, hotel and in B&B.
Lunches : packed lunches given every morning prior to departure
Dinners : typical meals.
TYPE OF TRIP:
Guided or self-guided tour as far as hike, MTB and trail are concerned.
Guided for horse-riding and rock-climbing
LEVEL:
This tour requires a good physical condition and endurance.
COME BY TRAIN:
We all know the impact of our car travels on the environment. Driving to the holidays location can produce a large amount of CO2 because of the long haul distance to get away...
Therefore, if low impact mobility interests you, Millau or Ales, welcomes you. A bus or our minivan can take you to your accommodation.
Check your journey by train with SNCF or OUIGO and contact us for any further information
The rate includes
- The accommodation in B&B and gites for groups.
- The breakfasts, packed lunches and dinners
- MTB rental (if option chosen)
- The luggage transfer throughout the MTB tour
- The road book and the maps for self-guided tours.
- The guides
- The canoe rental with the equipment (tanks and lifejacket)
- The transportation from the end of the horse backpacking tour to the departing point on day 3
The rate doesn't include
- The cancellation insurance (4,5%)
- The beverage
- The personal expenditures
- The taxi  from the last stage to the departing point.