Saint Guilhem le Désert hiking
Saint Guilhem le Désert hiking
Between Herault gorges and Larzac plateau
4 days / 3 nights
Nestled in the Seranne Mountains, St Guilhem le Désert is a located between the Larzac Plateau and the Herault River Valley. This magnificent medieval village used to be an important stop as for the pilgrims on the Road to Santiago, than for the transhumance. Within this Mediterranean chalky and steep massif, we propose you, each day, a different hike. You discover beautiful protected landscapes as well as a natural environment featuring special plants and trees, such as the rare Salzmann Pine. If you wish, you encounter people who unveil the historical richness of the place.
Trip highlights:
- the medieval village of St Guilhem le Désert (Grand Site de France)
- the Abbey of Gellone (classified as a UNESCO World Heritage Site)
- the mountains of St Guilhem to the "tormented" geology
- Salzmann pine forest (endemic species)
- wealth of heritage
TYPE OF TRIP:
Guided tour
From 4 persons, your can be guided by a fully qualified local guide. This person is passionate by his region and he knows how to share with you his knowledge about landscapes, the flora and the fauna or the heritage
 
Self guided tour
You are given maps (1cm=250m) and a road book describing the hike.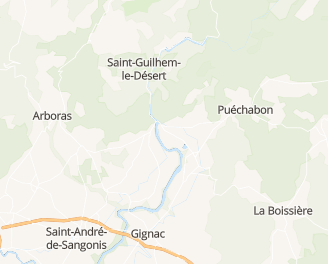 LEVEL:
This stay requires to be in good physical conditions. The paths are mainly chalky and stony.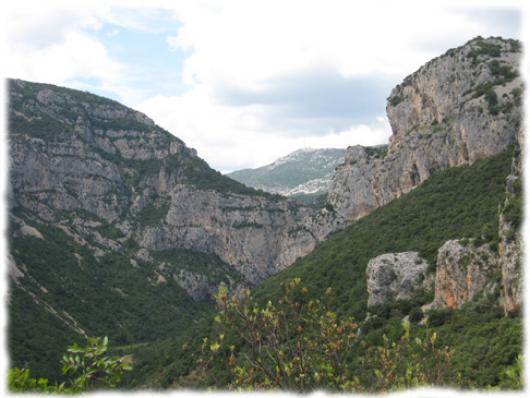 PROGRAM:
During the four days, you will be guided by a fully qualified person who will bring you his/her knowledge of the paths and safety. You will discover with him or her the hidden treasures of the region.
The hikes are 12 to 20 km long and the difference in height is between 500 and 800 meters.
PERIODS
Possible all year round
La prestation comprend
• The accommodation in B&B and gites for groups or hotel.
• The lunches and dinners
• The roadbook and the maps or guide (for the guided tour)
La prestation ne comprend pas
• The cancellation insurance (4,5%)

• The beverage

• The personal expenditures

• the guided tour in the village St Guilhem le Désert
COME BY TRAIN:
We all know the impact of our car travels on the environment. Driving to the holidays location can produce a large amount of CO2 because of the long haul distance to get away...
Therefore, if low impact mobility interests you, Montpellier, welcomes you. A bus or our minivan can take you to your accommodation.
Check your journey by train with SNCF or OUIGO and contact us for any further information.