The Causse Mejean by mountain bike
4 days tour : 5 days / 4 nights
Itinerary in loops : 3 days / 2 nights ou 4 days / 3 nights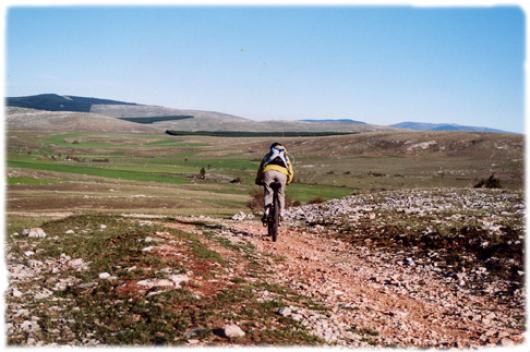 The Causse Méjean is a splendid limestone plateau presenting various natural environments. There are steppes and on both there are caves, gorges and underground rivers. During this trip you go for thematic full-day or half-day rides. For dinner, you taste local delectable food. You are accommodated on the Causse Méjean where scenery is beautiful and rough, where people are keen on their way of life.
This stay can be organized with a fully qualified local guide or not.
PROGRAM:
Itinerary in loops
Each day, we propose a new ride which takes you inside great and wide landscapes on the Causse Méjean and in the Cevennes. It is the opportunity to encounter the diversity of the natural and cultural heritage in the region.
Itinerary from 25 to 55 km - elevation  (+) from 350 to 810 m.
4 days tour
Day 1 : 36 km - elevation : + 1220 m
Day 2 : 33 km - elevation : + 815 m
Day 3 : 33 km - elevation : + 890m
Day 4 : 35,5 km - elevation : + 575 m
Mountain bike trip

5 jours/ 4 nuits - 4 jours/ 3 nuits*

à partir de 330 € */ pers

 

* base 6 pers

 

Self guided trip (from 1 person)

Guided trip (from 4 persons)

 

The price will vary according to the number of people, the duration of the stay and the selected itinerary & options. Please fill in the form accordingly.
IMPORTANT : If you want, it's possible to associate this trip with canoeing in Tarn river gorges (2 or 3 days).
For any further information, please contact:
Phone : +33 4 67 45 00 67
Mail : fred-faby@languedoc-nature.com
ACCOMMODATION AND MEALS:
Accommodation in gite for groups and in B&B.
Lunches : packed lunches given every morning prior to departure
Dinners : typical meals.
TYPE OF TRIP:
- Guided trip : a qualified guide takes you along the trails according to your level and your expectations.
- Self guided trip: we provide you with a road book and the maps. We book for you your accommodation and your meals.
LEVEL:
This hike is quite easy, although you need to be in a good shape. A regular physical effort all year long will help you to have fun during this trip.
COME BY TRAIN:
We all know the impact of our car travels on the environment. Driving to the holidays location can produce a large amount of CO2 because of the long haul distance to get away...
Therefore, if low impact mobility interests you, Millau station, welcomes you. A bus or our minivan can take you to your accommodation.
Check your journey by train with SNCF or OUIGO and contact us for any further information
The rate includes
 • Accommodation in gite for groups, hotels or in B&B.
• Breakfasts, packed lunches and dinners.
• The road book and the maps in the self guided trip or the service of a guide in the guided trip
The rate does not include
• Personal expenditure

• Comprehensive insurance (4,5%)

• The bike rental