Crossing the Ardèche by mountain bike
Crossing the Ardèche by mountain bike
The integral - 7 days / 6 nights
Crossing the Monts d' Ardèche - 5 days / 4 nights
 
Crédit photo : @CD07Mathieu Dupont
Rare are the departments that, like the Ardèche, present such a variety of environments and landscapes. Thanks to this mountain bike itinerary, you will cover the extraordinary diversity of this territory for more than 300 km.
To the north, the "green" Ardèche presents landscapes alternating between meadows, forests, valleys and moderate reliefs which ensure a smooth start. The route continues with access to what is commonly known as the "Plateau Ardéchois". Here, the mountain is omnipresent both in its climate and its landscapes. In the heart of the Parc Naturel Régional des Monts d' Ardèche, you can enjoy the wide open spaces, admire the Mt Mézenc (1754 m), pedal through volcanic juices while searching for the sources of the Loire at the foot of Mt Gerbier de Jonc. It is also an opportunity to appreciate the small villages that reveal their typical architectural heritage. The course on the ridge lines (line of the watershed) allows you to enjoy superb views of the surrounding mountains, starting with those of the southern Ardèche. On this section, you change the atmosphere: the landscapes of course, the vegetation, the geology that plunges you into the heart of a territory that is then Mediterranean. Sometimes forest, sometimes in scrubland, you take pleasure in pedalling on these wild paths that lead you to the spectacular sector of the Gorges de l' Ardèche.
All you have to do is join the Rhone Valley, the end of this superb mountain bike raid.
Lac Devesset : credit photo @ADT07
Power-assisted mountain bikes : On request, it is possible to integrate the rental of an electric mountain bike at the start of this crossing.
Trip highlights:
- the green Ardèche and its buccolic landscapes, ideal for the beginning of this crossing
- The Regional Natural Park of the Monts d' Ardèche and its major sites: Mont Mézenc, Mont Gerbier de Jonc and the sources of the Loire.
- the volcanic atmosphere on the Ardèche plateau through its juices
- the ridge line (line of the water divide) and its superb panoramas
- small typical villages, traditional architecture
- local flavours during your stages
- the descent towards the southern ardèche and its spectacular sites: gorges de l' Ardèche and the Pont d' Arc.
TYPE OF TRIP:
Accompanied formula*: A guide B. E VTT (Brevet d' Etat) will guide you during the trekking (technical assistance, discovery of natural sites and local heritage)
Freedom formula : You have at your disposal a detailed topo-synthesis (map documents) and corresponding IGN 1/25000th maps. Your accommodation and meals are reserved.
* Group base: from 4 persons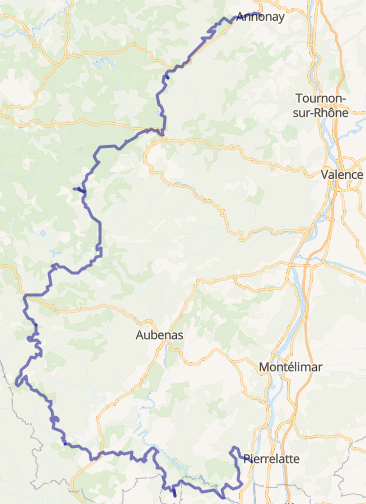 LEVEL:
The profiles met allow as many people as possible to consider this mountain bike raid. In the case of a first experience, it is possible to offer you a tailor-made cutting with shorter steps.
This stay requires a good physical condition and a certain endurance (length of certain stages and altitude difference).
As for any sports activity over several days, we advise you to prepare yourself as much as possible by mountain biking a few weeks before your stay (it is even better if you do it all year long...) in order to acquire endurance or to reinforce it. A few gym or jogging sessions can also help prepare you for your stay.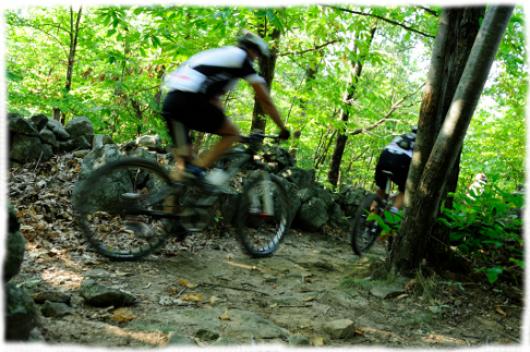 PROGRAM:
This great mountain bike crossing, labelled FFC, is undoubtedly one of the most beautiful itinerant mountain bike trekking routes.
We propose the following cutting:
La Grande Traversée de l' Ardèche by mountain bike (integral)
Stage 1 : 46 km - elevation : 1655 m
Stage 2 : 49 km - elevation : 1185 m
Stage 3 : 60 km - elevation : 1590 m
Stage 4 : 63 km - elevation : 1695 m
Stage 5 : 42 km - elevation : 990 m
Stage 6 : 44 km - elevation : 825 m
Crossing the Monts d' Ardèche by mountain bike
Stage 1: 47.5 km - elevation : 1160 m
Stage 2: 41 km - elevation : 1225 m
Stage 3: 46 km - elevation : 1390 m
1/2 Stage 4: 23,5 km - elevation : 725 m
La prestation comprend
• Accommodation in hotels, inns and guest houses.
Lunch (picnic) and evening meals.
• The supervision by a BE mountain bike guide (for the framed formula)
• The road book and the maps in the self guided trip
• luggage transportation
• transfer to the starting point at the end of the hike
La prestation ne comprend pas
• Cancellation insurance (4.5%) & multi-risk insurance
• Personal expenses
• renting mountain bike or electric assisted mountain bike (possible on request)
COME BY TRAIN:
We all know the environmental impact of our car journeys. Going on holiday is a significant source of CO2 emissions, especially since we usually travel long distances to get away from home...
So if you are tempted by "soft mobility", station d is there to welcome you. A taxi-minibus will make the junction with your accommodation.
Simulate your train journey or contact us for further information.