Lozere Mount Tour hiking
Hiking at the heart of the Cevennes National Park
5 days / 4 nights - 6 days / 5 nights - 7 days / 6 nights
Mounts Lozere is a massif with round mountains covered with a special moor scattered with granitic rocks. Before reaching this area, you hike in the forests above the Tarn river, you admire the traditional architecture of the hamlets and the people living here will leave you souvenirs.
Tarn river springs inside a peat bog area and then snakes in the pastures. When walking down to the valley, you meet the chestnut trees, sumbol of the Cevennes.
This protected nature, the scenery and the authentic villages will charm you.
Trip highlights:
- the gradual ascent on the massif
- ascent of the Finiels (1699 m), roof of the Cévennes and 360° panorama.
- the belfries of torment
- the hamlets of Mt Lozère
- built heritage (typical rural architecture)
- granitic moors, lawns and granite chaos
- pastoralism (Causses & Cévennes area - UNESCO classification)
Ideas : what else to do in Cévennes ?
TYPE OF TRIP:
Guided tour
From 4 persons, your can be guided by a fully qualified local guide. This person is passionate by his region and he knows how to share with you his knowledge about landscapes, the flora and the fauna or the heritage
Self guided tour
You are given maps (1cm=250m) and a road book describing the hike.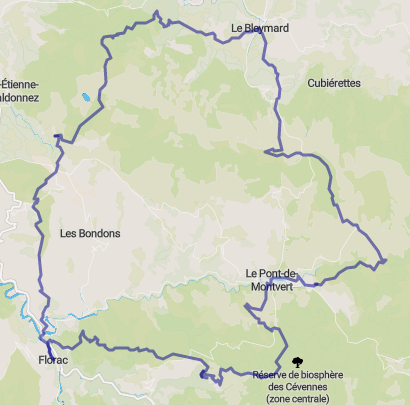 Travel advisories:
Good morning, sir,
We give you late news of our experience but good impressions!!
for a first experience of this kind, we are satisfied and proud of ourselves because we are not inveterate walkers.
The circuit was much more, especially the Pont du Tarn with its scenery of moors, peat bogs following the meanders of the Tarn, it was really exotic and the hamlet of Bellecoste superb.
A beautiful hike that makes us want to start again next year, but this time with the luggage carrying !
We had some heavy bags, for me 7kg and my man 12kg.
The reception in the different accommodations was very good, and the picnics were well provided!
We finished on Sunday evening with dinner at the table of Mr and Mrs Meyrueix with a meal of homemade products (homemade charcuterie, homemade vegetable soup).
They told us about their life, about the National Park, about the beautiful evening at the end of the hike...
Thank you very much for this organization, and we say maybe see you next summer!!
Sincerely
Patrick and Sylvie Bavre - August 2017
Hello, we are very satisfied with this superb hike. The sites we crossed were magnificent and the welcome was always warm. We will be happy to call you back for another hike. Kind regards.
Brigitte and Patrick - July 2017
Good morning, sir,
I wanted to send you an email after the trip, but obviously I didn't.
It was perfect (circuit, reception, catering, and progress: we started with a classic bed and breakfast very well and finished in a caravan with pool and sauna ... so much to tell you that given the weather conditions we bcp appreciated.
There were no hiccups, the area we knew is beautiful, and we will return there; thank you again.
I wish you good reception, and I remain at your disposal.
Dominique
Hello Frédéric
Very good stay with a quality guide. Well chosen stages, magnificent landscapes, quality accommodation, satisfactory picnic.
You are a good professional and I appreciated the quality of our exchanges.
Cordially.
Laurent
Good morning, sir,
The hike went very well despite unfavourable weather conditions throughout these six days: rain, wind, cold and gregarious (but not all at the same time).
Of course beautiful landscapes, lost villages and very pleasant paths.
As for the accommodation, overall very satisfactory: a friendly welcome everywhere and very good meals: simple but with local products and copious.
As far as you are concerned: the small brochure, with the information, the gradients etc... as well as the IGN map very good! Perhaps, it would be necessary to add a kind of mini-topo guide ONLY for the junctions (PR) because they are little used, little marked out, and I got lost two or three times.
So, in conclusion very satisfied with the organization, the material conditions of the stages and the circuit itself.
Best regards,
Loïc
Good morning, sir,
I would like to take this opportunity to thank you for this remarkable organization, all the accommodation and meals were excellent and very varied from one establishment to another. The picnics were also varied and always copious. A special mention perhaps for the Mas de la Barque, its aligot and the warmth of its welcome. As far as the itinerary and the quality of the explanations were concerned, it was also perfect, very well balanced and, despite a rather high average age, we made all the stages without any problems. We also appreciated the diversity of the landscapes and the species of trees depending on the altitude. So I can't suggest any ideas to improve a program that we thought was perfect. Thank you again, I will keep your booklet carefully for a future trip.
With kind regards.
Henriette
LEVEL:
This hike is quite easy, although you need to be in a good shape. A regular physical effort all year long will help you to have fun during this trip.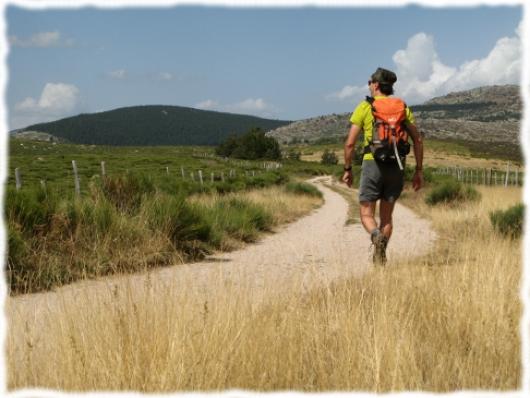 PROGRAM:
This 4, 5 or 6 days hike takes you throughout the Mounts Lozere mountains and its highest point the Finiels Peak (1699 meters high). Everyday the environment changes.
4 days tour
Day 1 : 24,5 km - elevation : +1020 / - 650 m
Day 2 : 21 km - elevation : +650 / - 830 m
Day 3 : 19 km - dénivelé : +660 / - 105 m
Day 4 : 23 km - dénivelé : +350 / - 1180 m
5 days tour
Day 1 : 15 km - elevation : +840 / - 175 m
Day 2 : 23 km - elevation : +533 / - 695 m
Day 3 : 21 km - elevation : +652 / - 827 m
Day 4 : 18 km - elevation : +660 / - 610 m
Day 5 : 15 km - elevation : +228 / - 607 m
6 days tour
Day 1 : 15 km - elevation : + 605 m / - 230 m
Day 2 : 19 km - elevation : + 760 m / - 560 m
Day 3 : 15 km - elevation : + 370 m / - 40 m
Day 4 : 26 km - elevation : + 450 m / - 830 m
Day 5 : 22 km - elevation : + 590 m / - 640 m
Day 6 : 16 km - elevation : + 180 m / - 840 m
PERIODS
From April to November
La prestation comprend
• Accommodation in gite for groups, hotels or in B&B.
• Breakfasts, packed lunches and dinners.
• The road book and the maps in the self guided trip or a guide in the guided tour.
La prestation ne comprend pas
• Personal expenditure
• Comprehensive insurance (4,5%)
COME BY TRAIN:
We all know the impact of our car travels on the environment. Driving to the holidays location can produce a large amount of CO2 because of the long haul distance to get away...
Therefore, if low impact mobility interests you, Villefort or Mende, welcomes you. A bus or our minivan can take you to your accommodation.
Check your journey by train with SNCF or OUIGO and contact us for any further information.