Cross-country ski courses - Massif Central, Pyrenees and south Alps
Cross-country ski courses - Massif Central, Pyrenees and south Alps
Massif Central, Pyrénées Orientales and South Alps
Aubrac, Mézenc, Capcir, Haute Ubaye
5 days / 4 nights - 2020 Season
For those whose cross-country ski's practice can't be conceived without the search for the perfect motion or the best performance, Languedoc Nature offers courses in a purely sportive spirit. You're taken in charge by a ski instructor who will help you acquire or master the ice-skating step or classic step and all their variations. He will also help you acquire a better shape : warm-up, dosage effort, recovery... And you'll discover in this sportive atmosphere some fabulous nordic locations where the joys of gliding and effort will go hand-in-hands with the pleasure of the eyes.
Trip highlights:
- Nordic atmosphere far from the turmoil of the big stations !
- Acquisition of the right and beautiful move ...
- the pleasure of effort
- the progress of your technique
TYPE OF TRIP:
Guided formula
Aubrac - Mézenc - Capcir - Haute Ubaye - 4 days
Cross-country ski course both the morning (2H00) and afternoon (2H00) 
or
Cross-country ski course both the morning or afternoon (2H00)
Travel advisories:
"We were delighted by Fred's availability both by email and phone. The organization of our stay corresponded well to our expectations.
The snow cover on the site we had to ski on was not as expected. However, our stay went well because Fred was able to be reactive and change our ski passes for another area. The instructor he had provided us with moved to the other area.
Jean Luc was perfect: kind, patient and good in his domains: cross-country skiing and snowshoeing.
He even suggested that we change the schedule at our convenience and made us discover beautiful landscapes on snowshoes.
The meals at the inn: breakfast, picnic and evening meal were copious and changed every day".
Serge and Christine
LEVEL:
The cross-country ski course will be supervised by a local ski instructor. He will give you the keys to improve your technique by analysing it and adding the required corrections. In private courses or among reasonable sized groups (from 4 to 8 people) and with a homogenous level, all the conditions will be gathered to turn your stay into great moments of pleasures and glidings.
Cross-country skiing is a discipline requiring, whichever your level is, a minimum of physical condition, that's why we advise you (as far as possible) to prepare yourself physically* by practicing some gymnastic exercises, walking, jogging or bycicling for a few weeks before departure (it is even better if you do it all year round...) so you can acquire stamina or reinforce it.
* we can, by demand, give you more precisions for a better training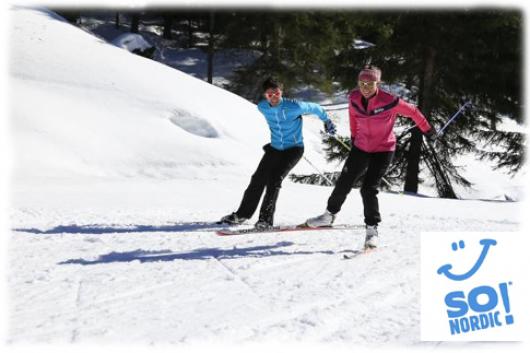 PROGRAM:

Cross-country stay
The Plateau de l'Aubrac
Aubrac is the Massif Central's greatest nordic ski location with almost 200 km of marked tracks. Distributed between Aveyron, Cantal and Lozère, the stations composing it are all connected by a connected track. It's a huge nordic area open to you!
The Mézenc
At the heart of the Parc Naturel Régional des Monts d'Ardèche, the Mont Mézenc dominate from the top of its 1753 m of altitude. To the northern limits of the massif des Cévennes, this volcanic massif offers adequate condition to initiate or improve cross-country technics (classic or skate skiing). More than 50km of track with 4 red tracks and 1 black track.
Capcir
Capcir is a vast plateau of altitude of the Pyrénées Orientales located between 1500 and 1900 m. It is borded by the massif du Madres to the east and the massives of Carlit and of Péric to the west. Landscapes are magnificient with superb forrests and lakes and a generous sun. the nordic atmosphere of the Capcir is of the highest quality (level 4 with the national Nordic France label) with more than 190km of marked tracks. Everything is gathered to satisfy both the newcomer and the confirmed cross-country skier!
Haute Ubaye
The nordic location of Haute Ubaye, whose part of it is located at the heart of the Parc National du Mercantour, offers the best conditions for cross-country skiing. More than 50km of tracks in a wild and natural setting. The joy of a natural glid in a wonderful and sunny valley that leads you up o 2400m of altitude !
The instructors who will supervise you for this stay are true ambassadors of their territory. They aren't here randomly, they chose to live there and to make you discover it through their activity Languedoc Nature strives to maintain a close link with those instructor to offer you quality services.
PERIODS
From December to mid - March
The service includes
•  Lodging in gite of stay or hotel according to the stay.
• Lunches (picnics) and dinners.
• Supervision by a local ski instructor.
• Ski rental (if required)
The service doesn't include
•

Cancellation insurance(4,5%) & multi-risks


•

Personal spendings
COME BY TRAIN:
We are all aware of the environmental impact of our car trips. Going to holidays produce a significant amount of CO2 notably when we drive for a fair distance for a change of scenery...
So if the "light mobility" tempts you :
- on the massif de l'Aigoual, Millau's railway station.
- in Margeride, Aumont Aubrac's station or Mende's railway station.
- in Aubrac, Aumont Aubrac's railway station.
- on the Mézenc, Puy en Velay's railway station or Valence's railway station.
- on the Capcir, Perpignan's railway station then Villefranche de Conflent's railway station (for the Yellow Train's departure).
- For Haute Ubaye, Gap's railway station.
A taxi cab or a minibus will make the junction to your accomodation..
Simulate your train trip or contact us for any complementary information.