Cycling travel from Carcassonne to Montpellier
From medieval city Carcassonne (UNESCO) to modern and trendy Montpellier, cycle throughout the Haut-Languedoc Mounts.
5 days / 4 nights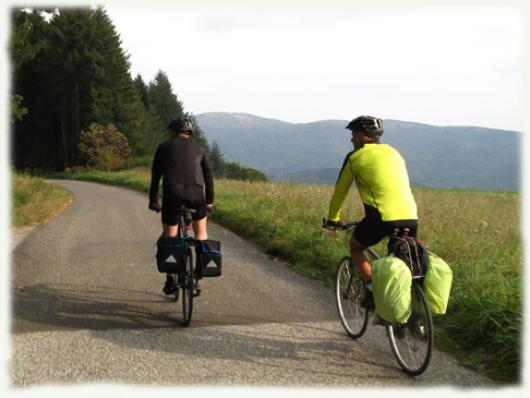 The fortified city Carcassonne is inscribed by UNESCO to the World Heritage. This route takes off roads throughout Minervois vineyards, the Espinouse Mounts, the Larzac terraces and charming villages. It ends in Montpellier buoyant city proud of its heritage from medieval times to nowadays.
At Languedoc Nature, we know pretty well the area, so we organise quality routes. It means that we design the itinerary throughout roads with low traffic to let you discover peacefully the landscapes in Languedoc.
The choice of the hotels, gites, B&B, restaurants and other suppliers is one of our main concern. We are willing our clients to experience the best during their holidays with us.
PROGRAM:
Carcassonne and Montpellier  are two main cities in Languedoc, and we decide to link them via an amazing ride throughout the Haut-languedoc Mounts, along the Salagou Lake and the Herault River Gorges. 4 days to experience a mountain or a mediterranean atmosphere. The selected off roads unveil tremendous contrasts, typical landscape and mediterranean villages.
Please note that the train is available between Carcassonne and Montpellier !
Day 1 - 60 km - elevation : + 1560 m - Carcassonne, Cabardès, Montagne Noire and Haut Minervois
Day 2 - 90 km - elevation : +  1665 m - Haut Minervois and Haut Languedoc
Day 3 -  77 km - elevation : + 955 m - Haut Languedoc, Lac du Salagou and Hérault gorges
Day 4 -  45 km - elevation : + 370 m - Hérault gorges, garrigues & vineyards and Montpellier
Cycling tour

 

5 days / 4 nights

from 495 € */ person

 

* base 6 persons

 

Self guided tour - possible from 1 personne

Guided tour - starting from 4 people

The right price : we will send you by email an offer which will take into account your choices (number of people, option chosen, bike hire or not...) we thank you in advance for the information you will send us.
Contact phone : +33 4 67 45 00 67 Mail : fabienne@languedoc-nature.com
ACCOMMODATION AND MEALS:
Languedoc Nature book accommodation, breakfast, packed lunch and dinners.
LEVEL:
This biketour is intended for people who are used to cycle on hilly routes. It is better to book this trip if you practise regularly sport all year long.
COME BY TRAIN:
We all know the impact of our car travels on the environment. Driving to the holidays location can produce a large amount of CO2 because of the long haul distance to get away...
Nearest train stations : Carcassonne and Montpellier.
Check your journey by train with SNCF or OUIGO and contact us for any further information.
The rate includes :
• Accommodation in hotels or in B&B.

• Breakfasts, packed lunches and dinners.

• The road book and the maps in the self guided trip
The rate doesn't include:
• optional : bike hire
• optional : luggage transport
• Personal expenditure
• Comprehensive insurance (4,5%)